Bonfire Night Safety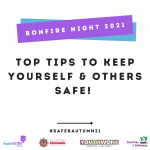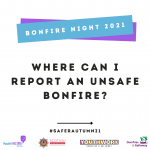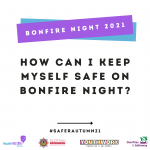 Bonfire Night is fast approaching, so we have teamed up with the Scottish Fire & Rescue Service to make sure YOU know how to keep yourself and others safe. 🙌
Bonfire Night is one of the busiest nights of the year for the fire service who can be up to 10X busier than normal! ❗
Remember:
❌ Sparklers are dangerous because they burn at up to 10X the temperature of burning water and so shouldnot be given to Under 5's.
🎆 NEVER go back to a lit firework!
❗ It is illegal to set off fireworks in a park and you could be fined up to £5,000 for doing so.
💬 You can report unsafe bonfires annonymously  here.
🚫 Don't put furniture on a bonfire as it may contain paints or plastics that give off toxis fumes when burned.
🔥 Bonfires should never be left unattended by a responsible adult. The fire service will only extinguish a bonfire if it is unattended or unsafe.
No matter the time of year, you can ALWAYS report an unsafe bonfire annonymously by clicking here.
Help keep yourself and others safe by remembering this, on the 05th of November.